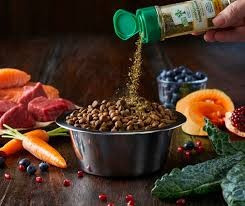 What They Don't have
No Poultry by-products

No corn, No wheat, No soy

No added sugars or sweeteners

No artificial colors, flavors, or preservatives

No grains in our grain free recipes, and only healthy grains in our other recipes
What They do have
Customized nutrition plans

natural and holistic

Real meat, poultry, or fish is the first ingredient

High-quality protein

Antioxidant-rich formulas to help support a healthy immune system

Contains prebiotics to support a healthy digestive tract

Contains taurine to support heart and eye health

Contains Omega-3 and Omega-6 fatty acids for a healthy skin and coat

Natural source of DHA- Supports healthy brain development

Complete and balance nutrition

Formulated for reduced stool volume

A good source of natural Glucosamine to help maintain joint health

Balanced Calcium and Phosphorus for bone and tooth health

Developed by Veterinarians and Nutrionists

Made in the USA
pawTree Promise
Real meat, poultry, or fish is the first ingredient

No Poultry by-products

No corn, No wheat, No soy

No artificial colors, flavors, or preservatives


Developed by Veterinarians and Nutrionists

Made in the USA
pawPairings Superfood Seasoning
Shaking up Mealtime For Your Pets!
You don't like to eat the same thing everyday, and neither does your pet!
pawPairings Super Food Seasoning adds a boost of delicious nutrients and variety to every meal Each variety includes a consintrated source of 8 fruits and vegtables- Pumpkin, Sweet Potatoes, Kale, Tomatoes, Carrots, Cranberries, Pomegranates, and Blueberries.
Seasonings Include
"Surprise Me"

Mexican Blend

Italian Blend

Asian Blend

Chicken Liver Medley

Turkey Medley

Duck Medley

Chicken Medley

Salmon Medley

Beef Medley

Oceanfish Medley
Packages
Surprise Me! Variety 3 Pack

The Jet-Setter

The Ultimate Gourmet

Unleash Your Inner Chef, For Dogs and Cats

Top Chef Status
WATCH OUR PAWTREE FOUNDER TALK ABOUT PAWTREE BENEFITS BELOW thttps://www.youtube.com/watch?v=2bldSsPxfzwo